CAPA
Corrective and Preventive Action
Process-driven CAPA Compliance
The CAPA module from Grand Avenue manages corrective and preventive requests. Important workflow steps include tracking detailed root-cause analysis and action plans, and performing verification of effectiveness.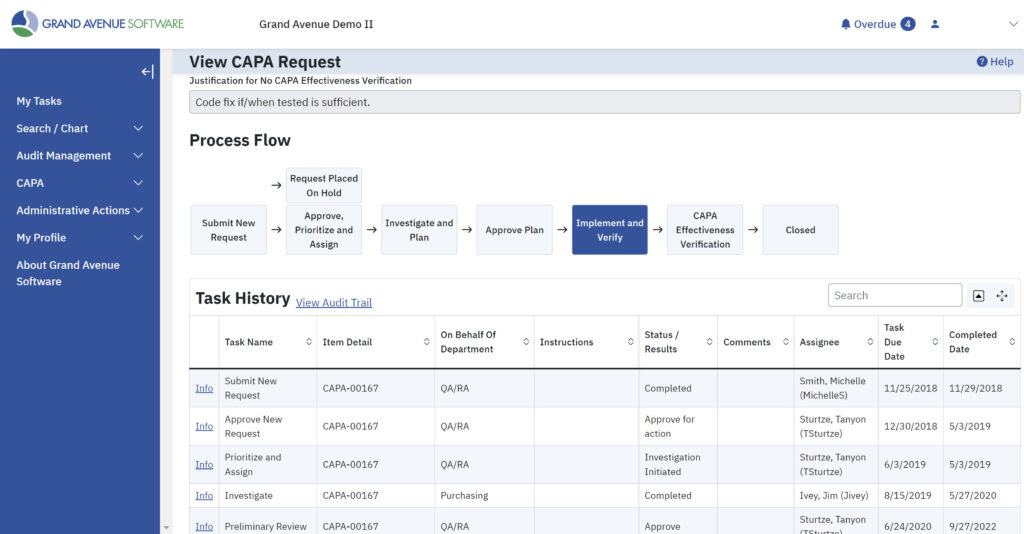 THE CAPA WORKFLOW
Each software module in the Grand Avenue suite is built around proven best practices. The best practices reflect years of experience on the front lines implementing what works in actual medical products companies. The core of each practice is a business process that serves as the backbone for the software functionality.
The CAPA process in Grand Avenue is efficient, effective, and compliant.
CAPA RESULTS – VERIFIED!
What actions were implemented? Were they effective? Where is the proof? The CAPA module ensures these questions are addressed and documented with evidence.
Each CAPA action is verified during implementation. A final step of overall verification of CAPA effectiveness helps ensure the completed implementation actions solve the identified problems.
CAPA
from Grand Avenue
Out-of-the-box Functionality